Author Description
A small VM made for a Dutch informal hacker meetup called Fristileaks. Meant to be broken in a few hours without requiring debuggers, reverse engineering, etc..
VMWare Users - MAC Address
If you are a VMWare user, you'll need to manually set the MAC Address to 08:00:27:A5:A6:76.
Port Scanning
Service Enumeration
| Port | Service | Version Detection |
| --- | --- | --- |
| TCP: 80 | HTTP | Apache httpd 2.2.15 ((CentOS) DAV/2 PHP/5.3.3) |
HTTP Enumeration
Enumeration of the web application, revealed the page /fristi with the following form: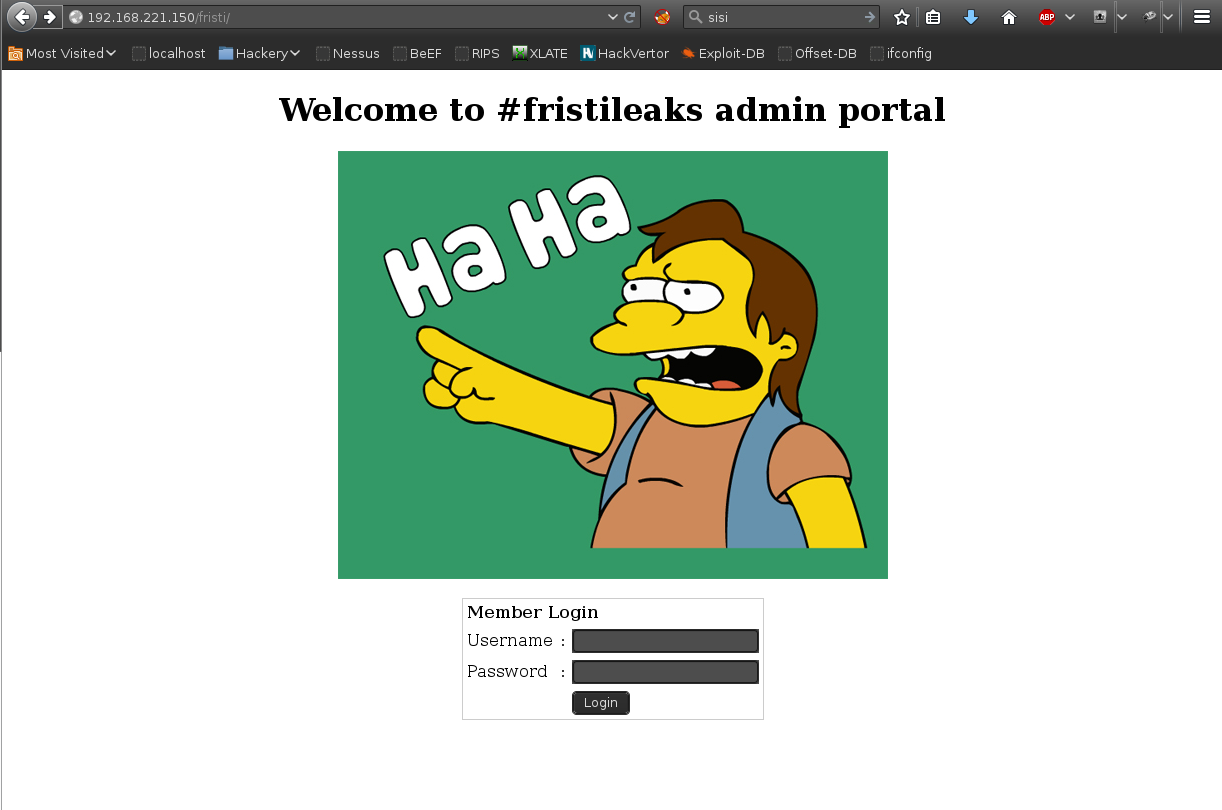 Page source interrogation revealed the following code comment:
The following base64 encoded image was also discovered and decoded to reveal an image containing the string: keKkeKKeKKeKkEkkEk
The following credentials were used to login to the web application:
| Username | Password |
| --- | --- |
| eezeepz | keKkeKKeKKeKkEkkEk |
PHP Reverse Shell
The file name shell.php.png was used to bypass the web application filtering, the file was still executed as PHP (likely due to incorrectly configured Apache MIME types). A reverse shell successfully connected back to a netcat listener.
Local Enumeration
Enumeration of the users home dir found several binary files and the following txt file:
The following directory traversal (the command had to originate from /usr/bin/) was used to set the permissions for /home/admin world readable.
/home/admin
Inspection of /home/admin disclosed the following:
The following python script appeared to create the above string in cryptedpass.txt:
The above script was modified on the attacking machine to decode the string:
String successfully decoded:
Using the previously decoded string it was possible to su - to the user fristigod.
Enumeration as the user fristigod revealed the SUID binary: /var/fristigod/.secret_admin_stuff/doCom.
Privilege Escalation
Execution of the doCom binary was possible using the user fristi from the logged in user fristigod, successfully escalating privileges.
Root Flag
Thanks for the VM :)